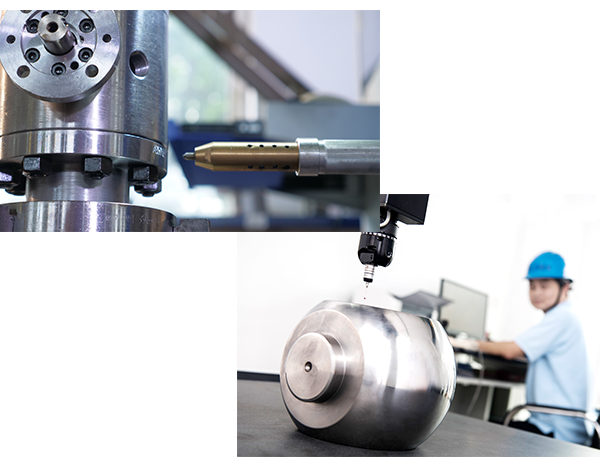 VIZA Valves is one of the China's leading manufacturers of industrial valves, recognized as a preferred supplier in quality and innovation. Suzhou Viza Valve Co., Ltd is the major subsidiary company and as the headquarter of VIZA group which has been manufacturing trouble-free service valves for more than 10 years. Today, VIZA's gate, globe, check, ball, butterfly and engineered severe service valves are installed throughout the world, handling diverse applications in oil & gas, petrochemicals, refining, power plants, LNG, pipeline transmission, marine, mining and water industries.
Kunshan Viza valve Co., Ltd is one of the Viza group's manufacturing plants for high & middle pressure valves, located in Jinxi Town, Kunshan City, with workshop covering 20000 SQM and total land covering 25000 SQM. Main products are trunnion mounted and floating ball valves and casting steel gate, globe, check valves in carbon steel, alloy steel, stainless steel. Kunshan VIZAhas been ISO 9001:2015, PED/CE certified and also hold all major industrial certificates like API 6D, API 600 and etc.

Tianjin Tanggu Viza Valve Co., Ltd is the manufacturing plant for low pressure valves, located in Binhai New District, Tianjin Ciry, with workshop covering 6000SQM and total land covering 12000 SQM.Main products are concentric and eccentric butterfly valves, resilient seat gate valves and cast iron valves. Tianjin VIZA has been ISO 9001:2015 and PED/CE certified.

Jiangsu Taibo Casting Co., Ltd is the foundry facility of viza group. supplying investment casting in carbon steel, alloy steel, stainless steel unit weight up to 250KG, located in industry zone of Yuanzhu Town, Taixing City where is 150KM from Kunshan Viza. with workshop covering 15000SQM and total land covering 20000 SQM. The annual production capacity is about 8,000 tones. Taibo foundry has been certified by ISO 9001:2015, PED/CE, AD2000.

VIZA Valves is dedicating to produce a zero defect valve with long life cycle, to increase customer's profit by lowering maintenance costs, controling fugitive emissions and increasing service life and etc so as to minimize the Total Ownership Costs for all our clients, EPCs and End-Users. VIZA is ready to serve the global energy industry and to work towards a sustainable new world.

VIZA Valves - The Flow Control Expert for the 21st Century!