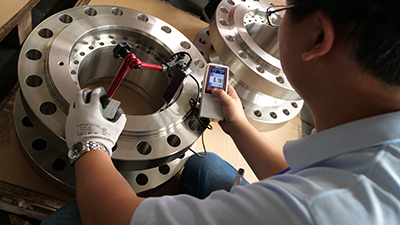 QUALITY FIRST is VIZA's company philosophy. Total Quality Management (TQM) system has been established and observed in the whole manufacturing process to continually improve product quality. A strict quality control plan including inspection and testing has been implemented since the beginning of the valve production.

All in house inspection and testing facilities enable us to do the chemical elements analysis, mechanical testing, non-destructive testing (Ultrasonic, Magnetic Particle, Dye-penetration), positive material identifier (MPI) testing. And also special performance testing like High Pressure Air testing, Cryogenic testing, High Temperature testing and Fugitive Emission testing, etc.

All the inspection and testing results of the materials and valves are registered in our quality system to support ongoing quality control efforts. All record of valve series numbers, inspection/testing procedure and results, operator information, are traceable.